Hello Everyone, Hope all are safe at home in this lockdown period. After long time I am back to my cooking. Yes! I am starting a program for a Tamil sat channel about fun cooking for men at home 😉 . And i will be sharing the recipe here in my blog. SO LET'S START With BBQ Chicken fry. This time my kitchen in my rooftop. Will share the photos soon. All you need is a good BBQ setup in roof top or your garden or at any open space you have.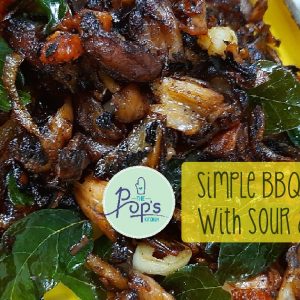 Simple BBQ Chicken Fry with Sour and Sweet Salad
Simple BBQ chicken fry with sour and sweet salad. This weekend in my rooftop RUM, BBQ chicken fry, Awesome movie in netflix and my sour and sweet salad. 🙂
Ingredients
Required for BBQ
5

Chicken Leg Pieces

With Skin should be good

1

Onion

Medium Size

1

Country Tomato

Medium Size

1

Lemon

5

Cloves

Garlic

4

tbsp

Pepper Powder

2

tbsp

Salted Butter

5

Curry Leaves

1

tbsp

Chilly Flakes

1

tbsp

Curry Powder

1/5

tbsp

Mustard Seeds

Salt as needed
Sweet & Sour Salad
1

Mango ( South Mulgoba would be awesome)

1

Orange

1/2

Lemon

10

Mint Leaves

Few

Coriander Leaves

1

tsbp

Mustard Oil

1/2

tsbp

Soya Sauce
Instructions
Simple BBQ Chicken Fry
Take chicken leg piece and make a cut on the top were the meat connects to knee. Make sure the it is not connected.

Make a small slit in that using your small finger and insert Garlic Clove in it.

Once done make small cuts on the meat in all side so that it can cook well.

Cut a lemon and rub it all over the meat thoroughly.

Drizzle required amount of salt on each leg piece and rub it.

Now take a small spoon if pepper and coat it on the each leg piece.

Put it on the BBQ and let it cook till it get little slightly burned. Brush butter on the meat.(Don't let it get too burned). Brush butter on the meat.

Once it is done keep it aside and take a pan and put it on the charcoal fire.

When the pan is hot add 1 table spoon of salted butter( if you have home made butter(Vennai) will be awesome).

Add ½ tea spoon mustard seeds and 1 TS chilly flakes and roast it.

Add Curry leaves fry it till it gets roasted.

Now add 1 TS curry powder and stir it for a minute.

Now add finely chopped onions in it and fry till it gets brown.

Meanwhile separate the meat from bone and chop into small cubes.

Once the onion has turned into brown and crispy, add the chopped meat and mix it well for 10 mins.

Now add the finely cut country tomato to the meat.

Make sure you are not over cooking or under cooked. It should be soft thats all.
Sweet & Sour Salad
Take the mango and cut it into small cube's. don't peel it.

Peel the orange and cut it into cube's.

Take half lemon and chop it into finely as strips.

Fine chop the mint leaves and coriander leaves.

Add everything together and add 1 TS mustard oil and ½ TS soya Sauce( If you want you can skip soya sauce)
Don't forget to subscribe:
BBQ Making Video:
YES! it's ready. Have it will any rum, it will be super cool. Ya chapatti too. Anyways my weekend was cool with BBQ chicken fry and my 2 little princess. Enjoy the food and don't forget to comment. Ref:
Mulgoba Mango
Vinoth Kumar