Chicken Fry – Tribal style with my twist
Simple South Indian Dry Chicken Tribal Style – With my twist
Come on friends let us try Simple South Indian Dry Chicken Tribal Style ;). Grab your apron and give a bright smile.
Dear ladies try to use Pud Pot:
Note: Special point for Guy's. Find it below.

Simple South Indian Dry Chicken Tribal Style
Prep time:
Cook time:
Total time:
This is very simple chicken fry that we use to cook when we are in forest and it will sure tease your taste buds.
Ingredients
½ kg Chicken (preferably chicken thigh portion)
50ml Coconut Oil
4 Green Chilly
10 to 15 curry leaves
½ Tea spoon mustard seeds
¼ Tea spoon cumin seeds
½ Tea spoon turmeric powder
2 Tea spoon pepper powder
2 Cardamom - My Twist
1 Small cinnamon stick - My Twist
2 Medium size onion(finely chopped)
1 Tomato chopped
3 Tea spoons ginger garlic paste
Salt as needed
Instructions
Heat the oil
Add mustard, Cumin, green chilly, curry leaves, cinnamon stick and cardamom
Fry it till curry leaves dries
Add Onion and sauté it well
Then add ginger garlic paste and sauté it till the raw smell is gone
Later add chicken, turmeric powder and tomato and mix it well
Allow it on medium heat for 10 mins(Do not add water. Chicken will let water)
Add Salt and mix it well.
Allow it for another 10 mins in medium heat.
Add pepper powder
Let it on medium heat till it gets dry
And as I use to say don't forget to add LOVE 🙂 .
Nutrition Information
Serving size:
2
Calories:
300
Tada, Simple South Indian Dry Chicken Tribal Style is ready. Eating with boiled rice(not cooker rice) will be heavenly. That to while boiling the rice add 1/4 tea spoon of cumin seed init will give more flavour.  
To Guy's:
I do understand if your going to cook this, then you are going to start a party. In that case and if kids are not around then add 2 dry chillies for the extra hit.
Moreover, Guys and Girls after trying this recipe please post your comment. Just don't go and sleep after eating. Enjoy!
Simple South Indian Dry Chicken Tribal Style
If you have time please check this link too – Orange Art Factory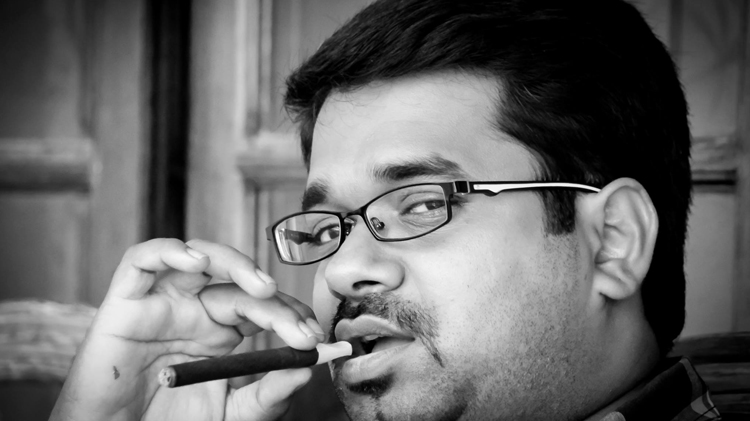 Vinoth Kumar
Learner, I love to learn. As they say ' curiosity is the mother of invention ', my curiosity drives me. This made me learn from writing to handling camera and more.
Categories
1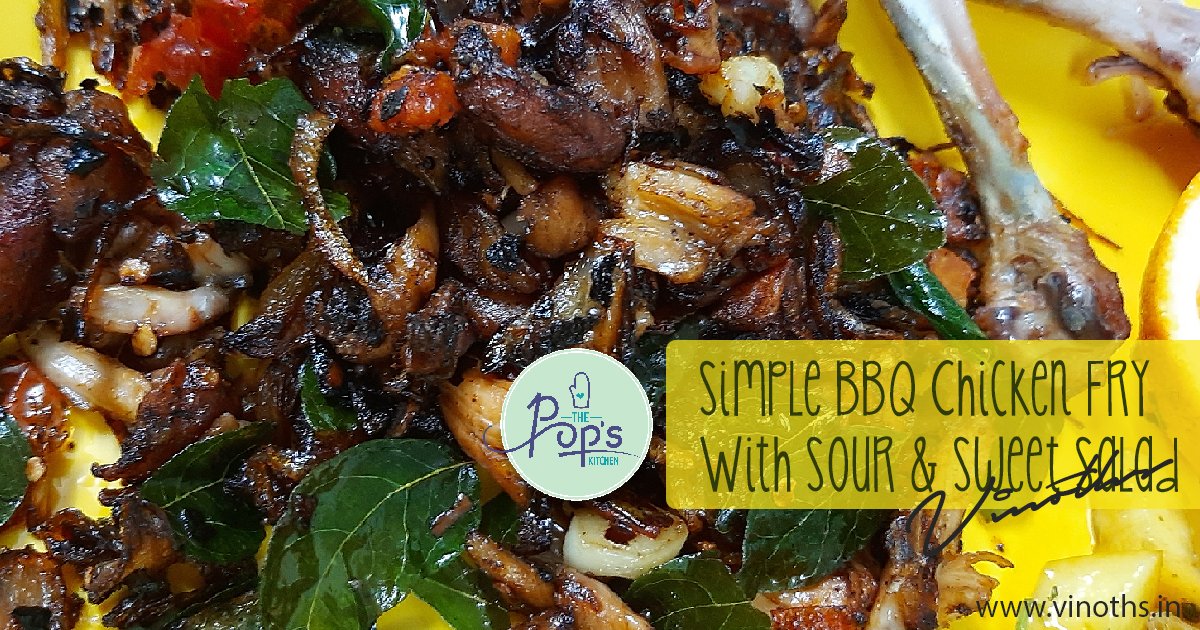 Simple BBQ Chicken Fry with Sour and Sweet Salad
Simple BBQ chicken fry with sour and sweet salad. This weekend in my rooftop RUM, BBQ chicken fry, Awesome movie in netflix and my sour and sweet salad. :)
Check out this recipe